Oh the memories. Used to go on these with my sisters.
Tramore beach - the lifeguard reminded me of Baywatch!!
Where: Tramore, Co Waterford.
Why: Childhood memories. I go to Tramore with one of the family at least once a year and have done so for as long as I can remember. I'm from Tipp so first ray of sunshine on a Sunday in summer meant harassing our father to bring us. It was proper Tipp Denny ham advert with sandwiches and the tea from a a flask! Its my favourite beach in Ireland. Just because I have so many memories over the years here.
How: Go to Waterford city and follow R675.
How much: Its two euros to park the car all day in summer and after that what you spend is up to you.
Whats there: Dooley's chips, amusement park, Freddie's, the holiday stores which sell fresh donuts with melted chocolate and ice cream. A day in Tramore is generally not the healthiest food wise but if looking to be healthier go to Esquire and Raglan Road, its up in the town so its up a hill and the pub grub is good. There is the blue flag beach of course, beach sand dune walk, fishing, golf, spooky ghost train, waltzers and surfing.
Pros: I love Tramore. Its a must go place each year. If your sick of the beach pop across the road to the amusement park. There is something for all ages here.I have been going there for as long as I can remember. Bumper cars, ghost train, crazy golf, roller coasters each year there is something new as well. There is a little train that goes around the site as well. Its well kept, clean and generally there are lower rates for families. The views from the beach on one side Brownstown head and the other the metal man and Newtown cove. Its really pretty.
Amusement Park
Cons: The tide was in so it meant that alot of the upper beach was covered in water.It has a 5km golden sandy beach when the tide is out so you can walk to your hearts desire. Was there with family so did not get to show you as much as I would like. But made some lovely memories again and managed to sneak a few pictures in !
History:
In 1600's Doneraile family set up an estate in Tramore which was then a small fishing village. In 1794 Barthlomew Rivers set up a hotel overlooking the bay. This marked the development of the resort town of Tramore which exists today.
The Metal Man is a prominent feature of Tramore bay since 1823 legend tells if a single woman can hop around him 3 times she will be married in a year. He points towards the sea and was erected by Lloyds of London to warn sailers away from the shallow waters of the bay. On a rough winters night it is said he can be heard chanting Keep out good ship, keep out from me. For I am the rock of misery.
Lots of accommodation from B& B, camping, caravans, holiday rentals and hotels to be found. You could also stay in Waterford as its not too far. I never really stay so cannot recommend.
More information:
Hope you enjoyed reading and if you go bring us back a stick of rock!! :)
Beach views
Crazy queues outside Doolys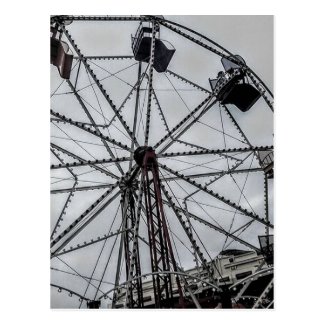 Tramore, Waterford, Ireland. Postcard
by
Forrealll
Postcards
by zazzle